Nothern Idaho's Electrical Experts for Remodels
Super D Electric is ready to help update your home or business to better suit your needs. You want to make sure the work is done safely, done on time and done right. That's why you need the licensed, bonded, insured, background checked professionals at Super D Electric.
Don't risk damage to your expensive new appliances, sensitive electronic equipment or even a fire by cutting corners with the wrong electrician. Super D Electric is a company you can trust from planning to final trim and offers a one year labor warranty on all electrical services.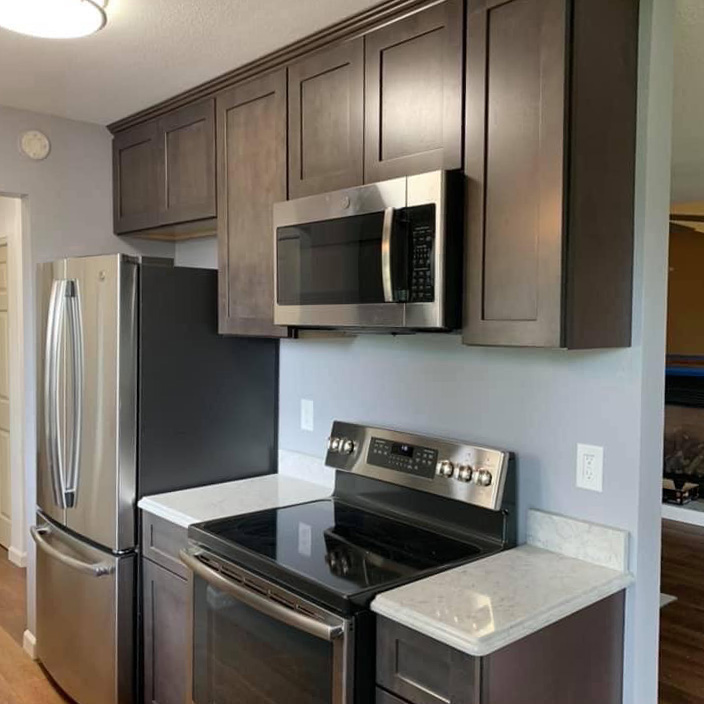 We power the future of your remodeled & improved space.
We don't just do the work, we make sure the right work is being done well.
The success of any remodel starts with proper planning. Talk with the experts at Super D Electric to make sure any of these types of projects are properly planned, permitted and executed to finish on time and on budget:
Basements & Bathrooms
Kitchens
Circuit planning to prevent overloads
Shops & Garage expansions
Lighting & Energy Efficiency Upgrades
Low voltage wiring for data, media & security systems
Almost any type of remodel needing power
We serve clients through North Idaho, and most of Idaho. We are very proud of our work, as we strive for excellence in every project.
What Our Clients Say About Us
We are delighted with Super D's work, attitude, and service. They have been here several times for warranty work through our builder. This time, it was a rewiring job that we wanted. Super D is friendly, prompt, and professional!
Just wanted you to know that we are delighted with Nicholas' work, attitude and service. He has been here several times for warranty work. This time, it was a rewiring job we wanted. Nicholas is friendly, prompt and professional. He represents your company well!
Thank you for your electrical work. Nick was great to work with — he is very professional, a self-starter and great to work with. The office staff were also very professional, helpful, and pleasant to work with.
Wade and his crew are great to work with. As builders, we need sub contractors that are dependable, honest, have integrity to do their best work and be willing to be available for any call back if needed. We have been pleased with Super D Electric. We recommend their services.
Hands down the best out there! We use them on all of our installations for ponds and troubleshooting etc. They are always on time, clean and professional. Highly recommend!
Schedule a free consultation or walkthrough today!
Let us know how we can service your electrical needs! We provide a competitive, free, no obligation, on-site estimate/bid to our customers, guaranteed.